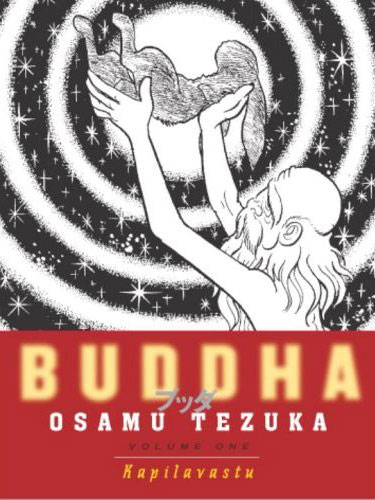 Osamu Tezuka is known for being the "father of manga." He's famous for creating manga such as Astro Boy and Ribon no Kishi. One of his lesser known works, however, is a manga about the life of Buddha.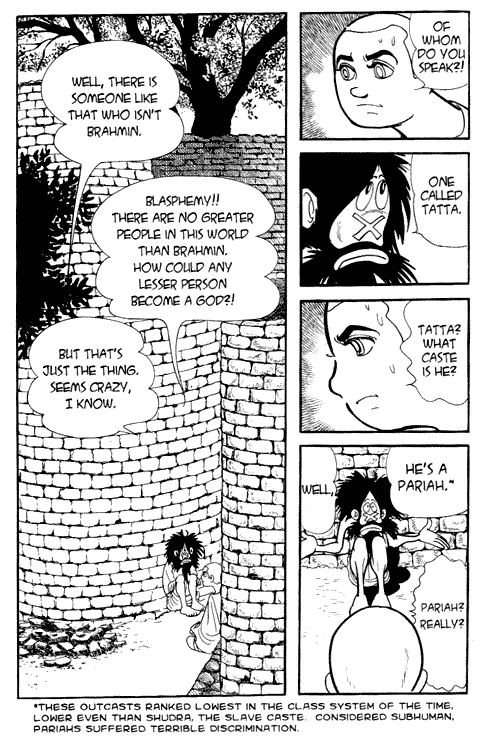 Story:
Buddha tells the story of Siddhartha Gautama. In the first volume, however, he only makes a few appearances as a baby. There's 8 volumes in all, so this particular volume serves to set up the rest of the story.
Much of the story in volume one deals with a monk, Naradatta, looking for someone who will become an enlightened Buddha. In his search, he finds Tatta, a thief kid who can possess animals and Chapra, a slave boy who wants to break free of the limitations of his caste. At this point, I'm not really sure how this all relates to Buddha himself, but I'm sure it'll make sense in later volumes.
Analysis:
The first impressions that I got from this manga were that the story was epic. Using landscapes and rich imagery for the first few pages, Tezuka sets the story up to be something special.
You might think that a manga about a religious figure would be resemble a sermon and be fairly boring. To the contrary, Buddha was incredibly easy to read. There's a good amount of comical humor involved too. At some parts it seems a bit forced (like Osamu Tezuka and the scientist from Astro Boy making a cameo), but for the most part it works.
The characters really bring the story to life. Tatta is probably the most interesting, since he can possess animals. I think he's a made up character, though (as in he didn't exist in real life). His animal possession trick leads to some pretty interesting situations (as a duck, he gets killed by a hawk, then he immediately possesses the hawk).
The pacing for the story is very fast; I finished reading the first volume in one sitting after taking a quick initial look at it. As someone who is interested in Buddhism, I guess maybe I might be a bit biased. I'd imagine that anyone could pick up this book and enjoy it, though.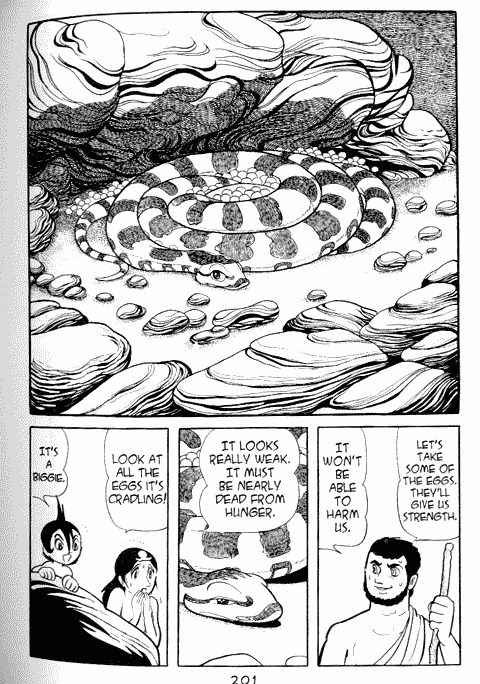 Designs/Art:
The art for this manga is really solid. Of course, we're talkin' Osamu Tezuka, so it has to be good. The humans are all drawn really cartoony, but the backgrounds and animals are all very detailed. I'd also like to take this opportunity to point out that there's a lot of bare boobs in this manga. I guess that's how it was back then in India. No complaints about it here!
The Actual Book:
The version of Buddha that I got is the paperback; it's also available in hardback. This particular manga is larger than most trade manga. It's about an inch or so wider than most manga, and it's about 400 pages. The pages are a good thickness and the printing is good.
The only complaint about the book is that the pages have been reversed for English. So it reads left to right. I'm so used to reading manga the Japanese way that I read the wrong panel on more than one occasion. Not only does this change how the book was originally supposed to be read – it also makes everyone left-handed.
Conclusion:
For someone like me who is interested in Buddhism, a Buddha manga sounds pretty cool. Add the fact that Osamu Tezuka is behind it and it's pretty much a must-read. Even though Buddha only made a small appearance as a baby in this volume, I have a feeling the next few volumes will be Buddha-ful! Ha! A pun! I'll post my thoughts once I finish reading the next volume.
Many thanks to Vertical who provided me with the review copy of this manga. You can get more info about the Buddha manga series at Vertical's website.