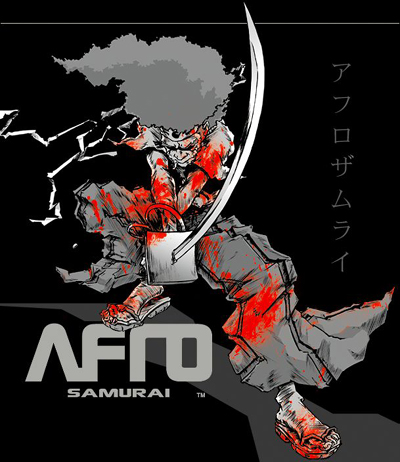 So I just read about this new anime called "Afro Samurai." It stars Samuel L. Jackson as a Black Samurai who flips out and kills people for revenge. And he has an afro. Did I mention that I'm not making this up at all?
The plot seems pretty generic to me. This is the IGN explanation:
Afro Samurai takes place in a unique world that is part ancient Japan and part futuristic science fiction fantasy. Samuel L. Jackson stars as "Afro" the solitary samurai on a quest to avenge the wrongful death of his father. It is a story of bloody hardship and pain. Afro sheds no tears and knows no love. Forever chased by powerful enemies in a lawless technology-speckled dystopia, he evades bullets and blade to reach his final prey: a man who will not die.
Yep, it's just your generic tale of revenge here. The anime looks like it's gonna run 5 episodes, so don't expect too much plot development. The plot synopsis tells me this anime might resemble Samurai Jack. I didn't like Samurai Jack at all, though. I believe that this anime is being made for American audiences to be shown on Spike TV. So basically it's an American funded Japanese anime…
It seems to me that people are overestimating the star power of Samuel L Jackson. Sure, he's cool and all, but can he instantly make an anime mainstream? It might work for Snakes on a Plane, but I don't know about getting people to watch anime.
The animation is being done by Gonzo, so I guess that gives the anime a little bit more street cred. Though with Gonzo, their anime are typically either super awesome or terrible. After watching the trailer, I'm pretty certain this anime will be on the terrible side.
It took me forever to figure out where to get the trailer, so here it is in embedded flash goodness. Samuel L Jackson seems to be strangely absent from it…

If that didn't get you excited, there's also a live action movie in the works. Starring (you guessed it,) Samuel L Jackson.