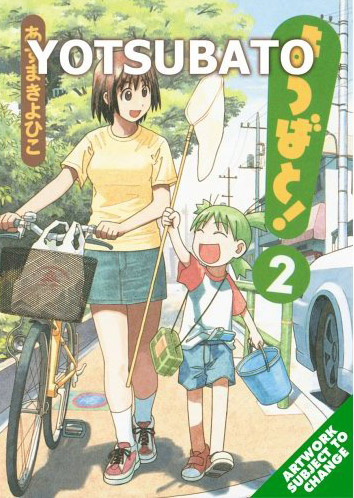 Between translating School Rumble manga, watching a ton of anime and programming websites, I found some time to just chill out with Yotsuba&! the manga. Yotsuba&! Volume 2 continues the adventures of the super naive green haired kid, Yotsuba.
This volume of Yotsuba& is basically more of the same. There isn't any kind of underlying plot or even a conflict. Yotsuba& is the perfect example of the slice of life genre. In this volume, she draws, goes swimming, buys cake, catches a frog, and does other simple stuff. The main reason any of this is interesting is that Yotsuba is incredibly amai (naive). It's really cute just seeing her try to figure out obvious daily stuff.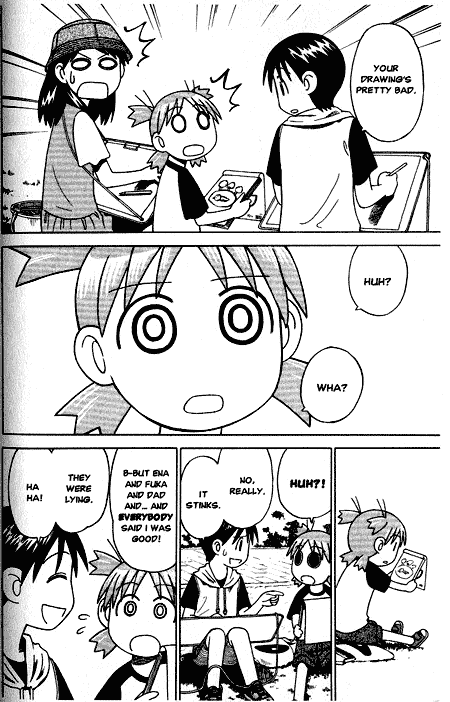 After talking about the whole demographic as genre thing previously, I realized that Yotsuba& is actually a seinen manga. This manga, however, doesn't appeal to perverted salarymen like Strawberry Marshmallow, though. At least, I don't think so… Rather, it appeals to the salaryman who yearns for simpler days. Yotsuba& is a natsukashii (nostalgia) manga. I'm surprised they haven't had a Ramune chapter in the manga yet.
Originally, I wanted to read this manga in Japanese since there seems to be very little dialogue. I was really surprised that there was no furigana for the kanji in the Japanese version. Now that I know it's a seinen manga (for older men), it makes sense why there isn't kanji.
Having said that, I don't think the actual audience for Yotsuba& is just old men. The manga is cute enough that girls will totally love it. Though I let my older sister borrow it and she kept on asking me when someone was going to get "magical powers." *sigh*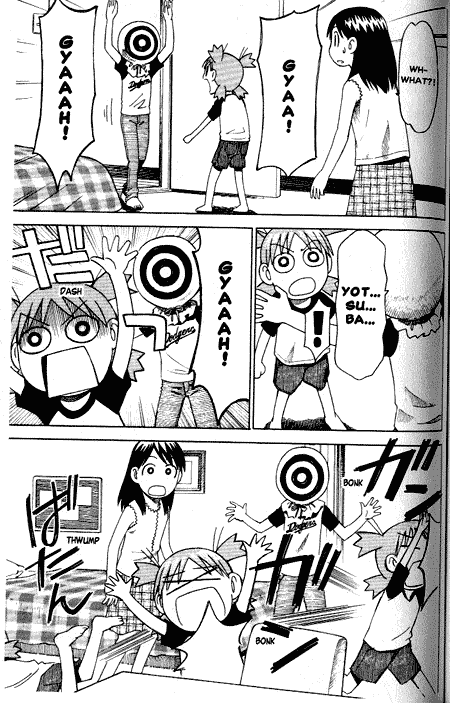 As in the previous volume of the manga, the art is great. In fact, I think it's gotten better. There's mostly cute kids, but the manga gets fanservice with a pool chapter! In this case, I think fanservice just refers to extra cuteness.
Yotsuba is mainly just a good manga for chilling out to. The jokes are sorta one-dimensional (playing off of Yotsuba's naivety), but they haven't gotten old yet! I already have the 3rd volume of the manga on my shelf ready to be read. Hopefully ADV will release the 4th volume of Yotsuba&! eventually.
I think there's enough chapters to make an anime now, too! Here's hoping that the success of Azumanga Daioh will lead to a Yotsuba&! anime…