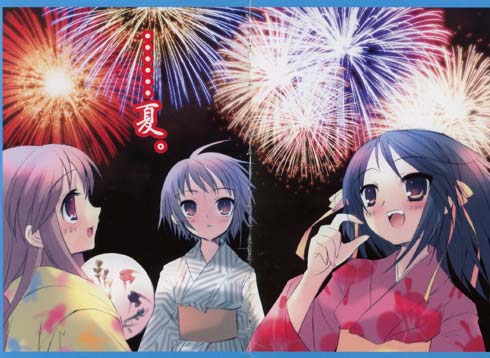 Sorry, SOS-dan, no license for you; just hanabi
So apparently Anime Expo is the convention that's known for its anime license announcements. This year was no exception. A lot of "well, duh" anime were announced, but there were also a few surprises. ANN decided to compile all of these into a nicely ordered list. I thought I'd go through the list and give my 2 cents on the acquisitions (at least, the ones I'm familiar with).
Anime Announcements
.hack//Roots – Bandai
Hmmm… This one's kind of a no-brainer. There are people who'll buy .hack stuff no matter what. Personally, I don't like .hack//Roots, but I have a feeling that .hack is a pretty good cash cow.
Black Lagoon – Geneon
Though I haven't really been following this anime, Black Lagoon seems to have what it takes to be popular in the US. A badass chick, a robot battle maid, a wimpy Japanese salaryman (er… wait)…
Full Metal Panic! The Second Raid – ADV
They already licensed the first and second season of this, so yeah, this is another obvious one. While this season was pretty slick, I still regard Fumoffu! as being the best.
Ghost in the Shell: Stand Alone Complex Compilation Movies – Bandai
Ghost in the Shell: Stand Alone Complex: Solid State Society – Bandai
Believe it or not, I've never seen any Ghost in the Shell anime or derivative. I don't even know what the heck it's about! I guess it's pretty popular, though.
Glass Fleet – Funimation
Ha! Good luck with this, Funimation! Glass no Kantai! Seriously, this anime tied with Air Gear as being the worst anime of Spring 2006. That's how bad it was. So bad, in fact, that it could be good. I take it back! You're a genius, Funimation!
Gunbuster – Bandai Visual
I've also never seen Gunbuster either. Apparently it came out in 1988. I was 5 years old back then. See? I told you retro anime was making a comeback!
Guyver: The Bioboosted Armor – ADV
I remember seeing a crazy Guyver live action movie when I was in middle school. Powered armor falls under the mecha category, so this anime = !win.
Hello Kitty: Stump Village – Geneon
I've never liked Hello Kitty (she's not even cute!), so I don't see any reason to be interested in the anime. Do they even have dialogue in this?
Karakuri Kiden Hiwou Senki – Bandai
Another anime that I've never heard of. In it, people use mechanized dolls to beat up a gang. "Mechanized dolls?" Sounds like mecha to me!
Mobile Suit Zeta Gundam: A New Translation – Bandai
Mecha anime! Dame~ yo!
Nerima Daikon Brothers – ADV
I've wanted this anime to be subbed for a while now, so it made me pretty happy to see that it was picked up by ADV. It's basically about a pair of radish farmers who strangley resemble the Blues Brothers. I'd seriously buy this if ADV does a good job translating it. Beta-Waffle has more on this particular anime deal.
Pani Poni Dash! – ADV
Yep, ADV must be a glutton for punishment. Pani Poni Dash is probably the hardest to localize anime ever! They did a pretty good job with Excel Saga, though. Jpmeyer compares it to Family Guy in terms of pop-culture references. I think it's more like The Simpsons. You know, like that one episode that was just a long parody of that 1960s tv show, The Prisoner? Now that's obscure!
Paradise Kiss – Geneon
I never really got into the Parakiss anime. But I'm sure there's a lot of fangirls (and Os) that are happy about this one!
Solty Rei – Funimation
For some reason, I thought this one had been announced a while back. I only watched the first episode of this anime. Seemed kinda cliche and done before.
Super Gals 2nd Season – Right Stuf
I think this anime is about kogals. Y'know, the spoiled girls who spend all of their dad's money on expensive tanning sessions so they look really fake? Not interested.
Wings of Rean – Bandai Visual
Yet another mecha anime. Why?
Manga Announcements
(I'm just gonna go through the manga that I've at least heard of before)
Disgaea Game Character Collection Artbook – Broccoli
I am of the belief that anything Disgaea is made entirely of win. My name is Hung Truong, and I approve this artbook.
Gakuen Heaven – Tokyopop
There's a manga of this? In case you didn't know, Gakuen Heaven is a BL thing. "BL" being boy's love. Is the fat yaoi fangirl demographic really big enough to support this release? I guess we'll see.
Kasimasi – Girl Meets Girl – Seven Seas
On the flipside, anything that involves yuri gets my approval. The Kashimashi anime was good, so I'm thinking the manga should be good, too. I hope there's a lot of Ayuki…
Witchblade – Bandai
So the American Witchblade comic spins off into a Japanese Witchblade anime which then spins off into a manga which then gets released into the US? Talk about going around full circle!
Also noteworthy is the release of the Shinigami no Ballad novel. Hopefully this'll pave the way for more Japanese light novels, since many new anime are being based on those (the most notable recent one being The Melancholy of Haruhi Suzumiya).