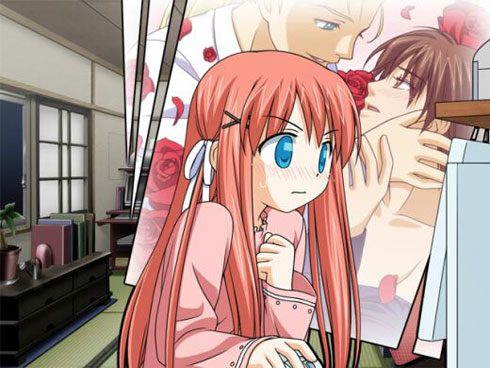 note: Danbooru is down, so I'm using this picture because it's funny
Ah, two weeks have now passed since the release of my baby, Anime Nano, and I thought I'd give a quick update on its status and whatnot.
Lots more bugs have been squashed. The hardest one for me was the unicode disaster bug. Let's just say that if you're ever debugging something that's being scheduled on cron, make sure the crontab has your environment paths set correctly. Whoops! That probably didn't make sense to anyone…

Anime Nano now has its own IRC channel, thanks to that super hyper busybody, lolikitsune. I thought at first that using IRC to communicate was kind of analogous to using two cans and a piece of string, but I guess it's not really that outdated, after all.
I drop by every so often to make sure they're not taking the Anime Nano name in vain (or something), so yeah, join in on the fun. We'd love to see you there.
/server irc.rizon.net
/join #animenano
I made up an about page, just in case people are confused about Anime Nano's true nature. It has a lotta text.
I also made up some link icons for Anime Nano. They come in three colors (including transparent!) and there's also a mini (or should I say, nano?) one. So if you'd like to link to Anime Nano, but never thought you'd have the bandwidth to host such extravagant images, just use these!
We're now indexing like, 60 anime blogs, up from the 41 a week ago. There are still quite a few I'd like to see added, though. I'm gonna stop being coy and just beg now:
These are the great ones that I could think of off the top of my head at 2:30AM. My brain isn't working at 100% right now. No offense meant to thost that aren't on this list.
If there's an anime blog you don't see here that you'd like to see on Anime Nano, you can leave a comment or contact the author yourself. Hey, wait a minute, that's a good idea. Maybe I should've done that instead of publicly prostrating myself. It woulda been a lot more direct…
Anyway, that's basically all that's happened in Anime Nano news, so until next time, keep the site suggestions and comments coming!