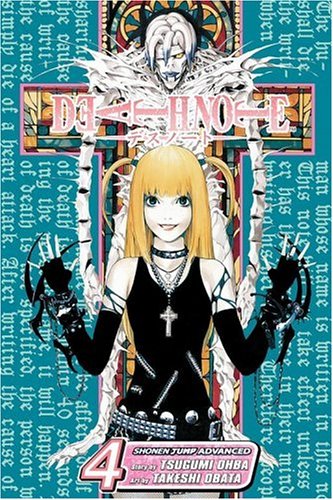 The psychological warfare continues in Death Note Volume 4 with an added bonus: Misa Misa! That's right, the manga finally has a cute character. Besides Ryuk, of course.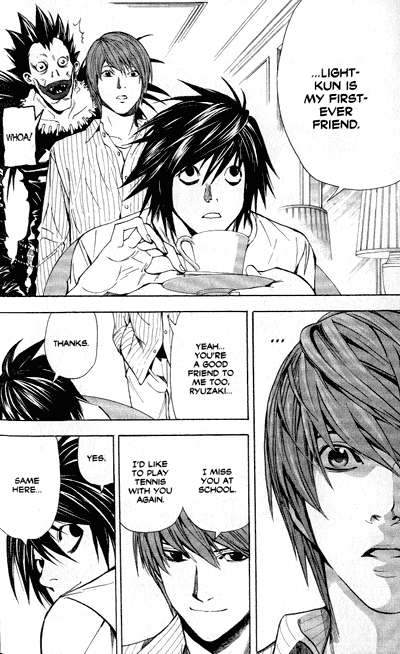 Story:
Since there's two Kiras, L asks Light to help him catch the second Kira, while secretly assuming that Light is still the first Kira. Light has a pretty tough job ahead of him: finding the other Kira while pretending not to be Kira, and while pretending not to know more than he already does. If it was me, I'd probably give it away in this sort of fashion…
Light finally meets up with Misa, a rising idol who happens to be a Death Note user. She's totally in love with him, and would do anything for Light. Including killing people. Her shinigami, Rem, is totally overprotective, so there's no way she'd let Light use Misa outright.
Together, they try to figure out how to dispose of L without getting caught. Too bad L is super smart! Take that, Kiras!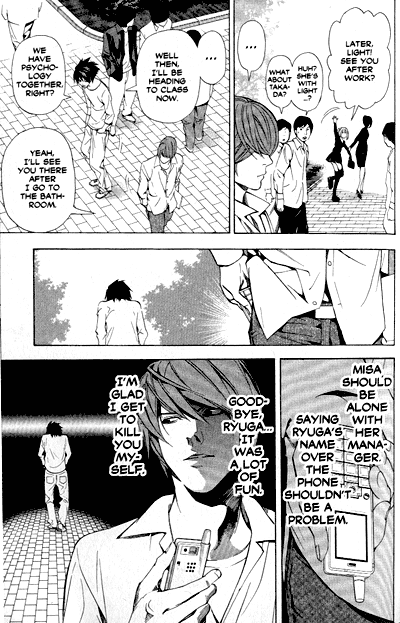 Analysis:
Light is such a bastard. First, he pretends to be friends with L while trying to kill him nonstop. Then he pretends to be Misa's boyfriend while trying to use her and then kill her. Seriously, this dude needs to be taught a lesson in respect. He should just give up being Kira, since he's got a hot girlfriend and a cool detective friend. But I guess that might be hard to do after having killed countless criminals…
At the end of the volume, Light hatches a scheme to save Misa and himself by going to prison. He parts with Ryuk (NOOOOO) and has to stay in jail until L is convinced that he's not Kira. I'd like to note that being in jail isn't really that bad, and in Monopoly, it's actually a good strategy when a lot of the properties start having hotels… Just thought I'd throw that out there.
A lot of the psychological thinking is really too much now. Or at least, too wordy. I noticed that a lot of panels were pretty much 100% text. Maybe Death Note would work better as a light novel (no pun intended)? I think that'd be pretty sweet, actually. But yeah, between Light's thinking and L's thinking, there's a hella lot of thinking going on.
Conclusion:
I really hate Light now. We need an L spinoff (I think I heard rumors of something like that happening)! Maybe L can join forces with Ryuk and Misa, and they can all have adventures finding hidden treasure or something! That'd be a lot sweeter than reading about Light trying to kill everyone on the planet! Oh, and yeah, Death Note is good, but I hate Light.
Many thanks to Viz for sending me a review of Death Note Volume 4!