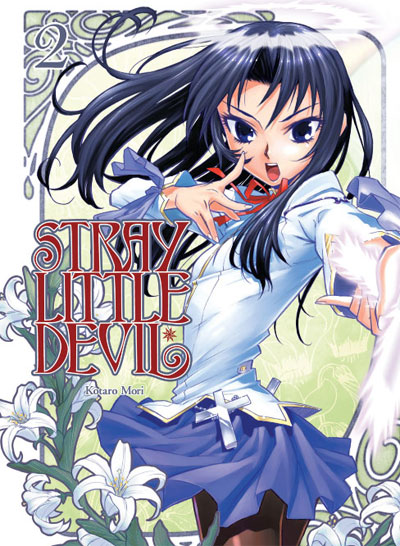 The author of Stray Little Devil mentioned in the afterword that panty shots weren't allowed in this manga. I hadn't really noticed, but maybe that means it's time for me to stop reading this…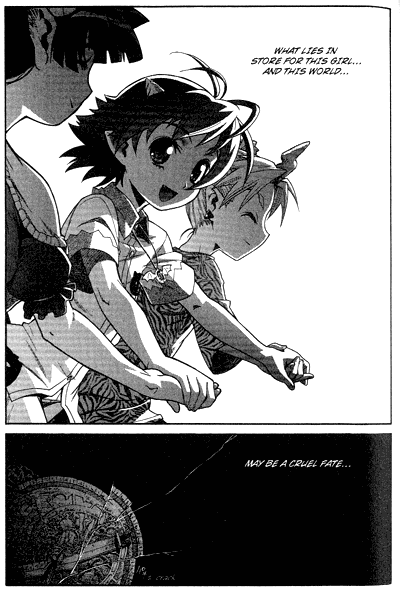 Story:
In this volume, the actual devil temple competition thing begins. It eventually leads to Raim and Pam becoming friends. Then there's some filler before we find out that Pam's existence in the devil world might be some kind of legendary omen. Humans are just fairy tales in the devil world. Apparently the chairman of the devil counsel knows more than he's willing to tell the girls.
Then there's some more filler, ending with an Iron Chef style cooking competition. At the end of the chapter, Linfa shows up and enjoys Pam's cooking, which leads Pam to roll on the bed in uncontrollable joy. But I thought Pam and Raim were the Yuri couple of the series! I'll also accept Vine x Pam, Vine x Raim, Vine x Linfa, and any other combination of female characters, really. Vine is actually my favorite. Those ram horns are really cute!
Analysis:
This manga is just a lot of fun to read. The art really has a lot to do with this. Sure, panty shots are not allowed (I don't know whose decision this was), but the fact that the characters all wear leather/hotpants sort of cancels that out. The extras at the end were pretty funny ("If panty shots aren't allowed, then just don't wear any!!"). There's still a lot of fanservice, as you can see from the scan below: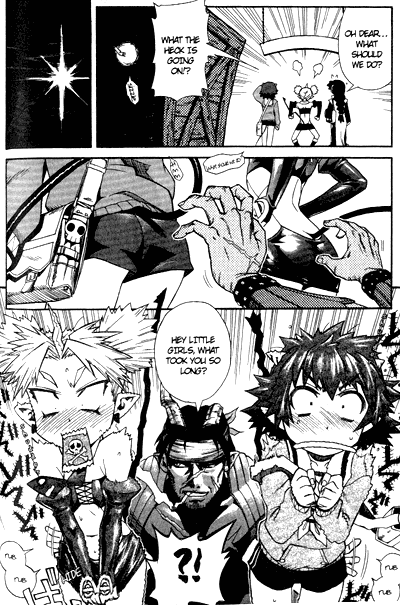 There also seems to be a serious story developing. And I'm not just talking about the yuri stuff! The foreshadowing leads me to believe the end could be tragic, but we'll just have to wait and see, I guess. The characters are all very endearing, especially Pam, so that makes me want to keep reading as well.
Conclusion:
Stray Little Devil is really a nice manga that isn't as popular as it should be. I'm really enjoying the series for the art and even the story, as it's happening to develop.
Many thanks to DrMaster Publications for sending me a review copy of Stray Little Devil Volume 2!