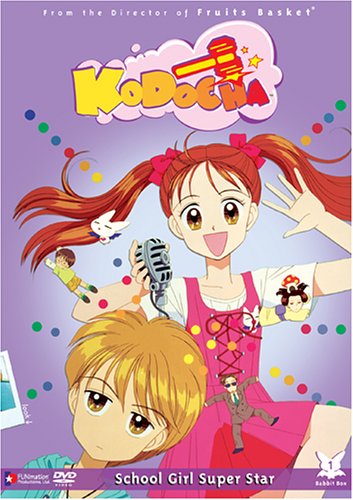 Kodocha is one of those legendary anime that I've never seen. Well, actually I had seen a few episodes on fansub back in the day and gave up on it. But now I have the DVD, so I'm giving it another shot!
Story:
Sana Kurata is a super hyper elementary school girl who happens to be a famous television personality. She's so famous that she even has her own pimp! Her school life is being ruined by Akito, the leader of the boys in her class. They do all sorts of evil things to the teacher, and generally make class into a giant mess.
The teachers are helpless, since Akito has compromising photos of them making out! It's up to Sana to convince Akito to stop the madness. Between doing that, filming television shows, and coming up with interesting raps, Sana is a really busy girl!
Analysis:
I think I'm having the same issues this time around as the first time I watched Kodocha. There doesn't really seem to be a concrete plot at all. There's hints that Sana will find out more about Akito's abusive family, but nothing has really happened so far. I guess I'm just frustrated that the plot is going so slowly.
Having said that, the anime is still pretty funny. The humor is really random, which I like. For example, Sana's mom wears a new strange hat every time we see her. There's one that's a hamster wheel, a pyramid, a tree… The anime is fun to watch, but there better be a plot soon!
Character Designs and Art:
Kodocha is a pretty old anime. It originally aired in 1996, so it's more than 10 years old. I can't really say I like the character designs. Like Akito has the same exact look on his face all the time! I guess he's supposed to look like that, but it's kind of annoying.
The art quality is good, considering the age. It's got an old school feel and reminds me a lot of "Daa Daa Daa," the J.C. Staff anime about the alien baby.
The DVD and Extras:
I checked out the English voice track and thought it was actually fairly well done. Except that Akito's voice is lower than mine! There's no way I would believe an elementary school kid (or even a middle school one) could have such a low voice. Couldn't they have found a girl to do his voice?
The extras include character profiles and English commentary on episode 4. Nothing too interesting here.
I noticed that for the Japanese audio track, entire sections of audio were just left out. I read that it had something to do with licensing. It's really freaking annoying to watch and then just have no audio at all. All of the next episode previews are totally silent.
Conclusion:
Kodocha is funny. I just found that it was a little boring to watch due to the lack of a significant plot. I'm pretty sure there'll be some interesting stuff coming up in the later volumes, though. I wish there was some more juicy stuff in the first volume.
Thanks to Funimation for providing me with a review copy of Kodocha Volume 1. The box set with the first 6 volumes is available now, in case you want a ton of Kodocha at once.