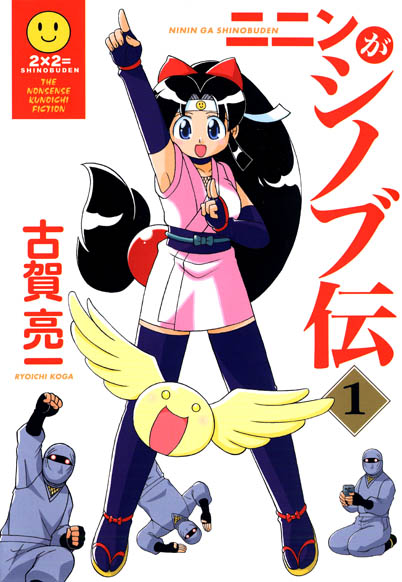 I really liked the Shinobuden anime (called Ninja Nonsense in the US), so I got totally stoked when I found out about a manga version being released! I ran out and bought the manga as soon as I could! Well, okay, I really bought it on Amazon since I couldn't find it at a normal store. So how does the wacky ninja action work on print?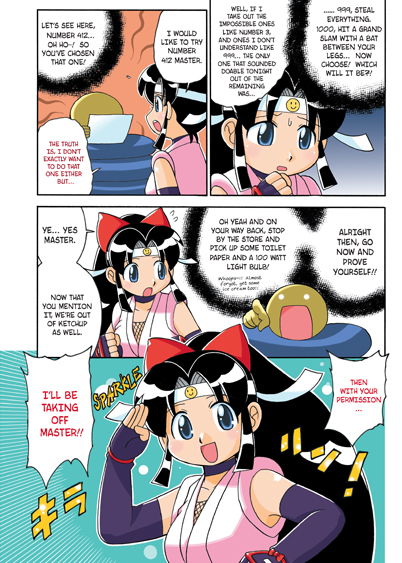 Story:
Shinobu is a ninja in training who is entrusted with a dangerous test: steal a high school girl's panties. During this mission, she meets Kaede, a normal high school girl. Kaede sympathizes with Shinobu, since she's also studying for tests, and gives up her panties. This is just the beginning of a long friendship.
Basically, Shinobu comes to visit Kaede a lot and brings her ninja friends, Onsokumaru (a weird perverted yellow ball) and Sasuke (a generic male ninja). Onsokumaru is the source of most of the conflict in the story, as he's generally an ass. Kind of like Keroro… Usually, Onsokumaru will interfere with Shinobu and Kaede's activities. This usually ends with Onsokumaru getting his butt pinched or otherwise abused.
Analysis:
Yes, Shinobuden is a really stupid manga. A lot of the humor is derived from either stupid gags or bad puns. This is not to say the the manga is bad; it's just really simple humor. Personally, I like stupid humor, so this manga is awesome. Plus they make up really crazy ninja techniques, like "Ninja Skill: figuring out how much recording time is left on a video tape technique."
One of the running gags is the yuri relationship between Kaede and Shinobu. Shinobu always gets suggestive around Kaede: trying to take baths with her, giving chocolates to her on Valentine's day, going on dates… Personally, I think they make a good couple. I get pissed when Onsokumaru tries to break them up…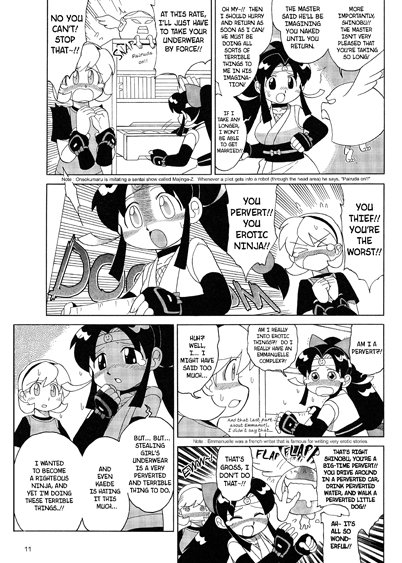 Art and Designs:
Shinobu is cute, but Kaede seriously wins all. I dunno what it is about the design, but I think Kaede is way cute. Miyabi is okay too, I guess. Besides that, there's really not many characters. Onsokumaru is just a ball, and the other ninjas all look the same.
Since this is a gag manga, I noticed that the text is really crammed in there, leaving little room for the actual art. Each chapter is only 8 pages, so I guess it's just a limitation of the media. The characters in the manga even reference this, saying stuff like "there's only 3 panels left!" For this same reason, I found that the manga seemed to "last" longer than most manga. Like it took me a few days to finish this manga where I can sit down and read most in one sitting.
The Actual Book:
The actual manga is slightly bigger than most that I've read. I'd say it's an inch wider and 1 1/2 inches taller than most manga. The book comes with a dust cover too, which is nice since they're usually only found as extras in the US. The paper and printing quality was above average, which is to be expected from Infinity Studios.
Due to the amazing number of cultural references, there are footnotes scattered between the panels. I kind of prefer this to a long appendix section, since I'd like to know what the heck "Donald Magic" is referring to without flipping all the way to the back.
Conclusion:
If you like ninja or gag manga, you might like Ninin Ga Shinobuden. I had already seen the anime previously, so I figured I'd enjoy the manga too. The brand of comedy is my type, so I'm glad I picked this manga up.